With many more virtual events being organized each year, the need for software platforms and systems to plan and execute them has risen exponentially. In fact, they're expected to reach $701,392.4 million by 2028, from $57,715.1 million in 2019, making this an excellent time to invest in virtual event software platforms and systems. The virtual event software platforms and systems help to ensure that your event runs smoothly, while also enabling you to maximize your ROI in various ways. So, if you're looking to host a virtual event or increase your use of virtual events in your business, here are the 5 best virtual event software platforms and systems in 2022.
What is a virtual event platform?
A virtual event platform is a software platform that can be used to plan, execute, and track events online. The majority of these platforms are utilized by organizations to conduct virtual training. They provide employees with in-depth, high-quality training without forcing them to leave their desks or travel. Some platforms even offer certifications upon completion!
Users can host multiple speakers in a single event in both pre-recorded and live-streamed sessions. This allows companies to easily save time, money, and resources while also providing employees with valuable information. Unlike GoToMeeting and Zoom, this type of tool is specifically designed for hosting online events rather than one-on-one or group video calls.
Virtual event platforms are also different because they often offer a wide range of features. These can include live polling, real-time interaction, virtual whiteboards, note-taking, and more. This level of customization is much more difficult to achieve with other software platforms.
Why should you use one?:
With so many advantages offered by virtual event platforms, there's no question as to why businesses are flocking to adopt these technology solutions. The most common benefits include:
(i) Reduced travel costs
The good thing about virtual event platforms is that they enable employees to participate in training events from their desks. This eliminates travel costs, which can add up quickly when you're talking about a large company with thousands of employees.
(ii) Increased employee engagement
Employees are more likely to pay attention during virtual training sessions because they don't have to worry about being distracted by outside factors like work emails or office chatter. Plus, it's easier to focus on a topic when you aren't surrounded by distractions.
(iii) Improved productivity levels
Virtual event platforms enable employees to participate in events at their convenience, which means they can easily fit them into their schedules. This is important because employees who attend training on their own time are more likely to retain information than those who force themselves into an event that doesn't fit with their schedule.
(iv) Increased ROI
Virtual event platforms have a higher return on investment (ROI) than traditional training methods. They save companies money by reducing travel costs, cutting down on employee downtime, and improving overall productivity levels.
Where to use virtual event platforms?
Now that you understand what virtual event platforms are, it's time to take a look at where they can be applied. The following is a list of potential uses for virtual event platforms. Keep in mind that not all virtual event platforms will support all of these use cases, but many do.
1. Q&A sessions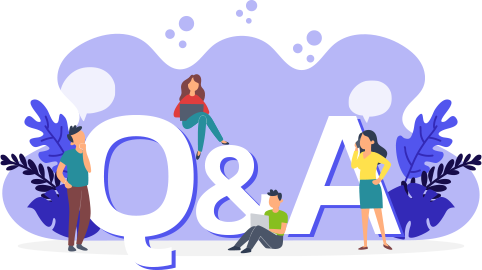 The right virtual event program comes with an integrated Q&A system that allows you to gather questions from your audience in advance, then provide a way for them to submit their questions during your presentation. This feature makes it easy to make sure that you answer all of your audience's questions at once, instead of fielding them one by one during or after your talk. Some platforms also allow you to accept anonymous questions so that people who are too shy to ask can still get answers. Overall, a Q&A session is an awesome way to engage people with your content and ensure they walk away with all of their questions answered.
2. Interactive workshops
Also referred to as breakout sessions, interactive workshops are a great way to engage your audience in a hands-on learning experience. With a virtual event platform, you can create an interactive workshop that allows people to try out new skills or apply what they've learned in real-time. This is a great way to get people involved with your content and help them walk away with practical knowledge that they can put into practice immediately.
3. Free handouts
If you want to make handouts available to your audience, virtual event platforms can support that. You'll be able to link out to PDF versions of your presentation slides or embed content like templates, checklists, or other documents directly into your platform so people can download them at their convenience. This is a nice way to save people time by not requiring them to take notes or print handouts during your presentation.
4. Virtual events
Of course, it can be awkward if virtual event platforms can't hold virtual events. The type of events you'll be able to run will depend on your audience size, but many software solutions allow you to host a webinar with hundreds or even thousands of people in attendance. Webinars are great for hosting presentations, interviews, or Q&A sessions; you'll just need to find a way to get people on board with your presentation!
5. Audience chats
If you want to make sure that people who can't attend your event get to participate, you can set up a text-based chat on your virtual event platform. People can then submit questions, thoughts, or general comments about your presentation and you can respond during or after your presentation is over. This feature makes it easy to ensure that everyone gets an opportunity to participate, even if they have different schedules than other members of your audience.
6. Audience polls
Asking your audience questions through audience polls is a great way to gather their feedback on your presentation. It's easy to set up polls on most virtual event platforms, so you can make sure that you're providing content that meets people's needs. This feature also makes it easy to do a quick poll at any point during your presentation, so you can check in with people and get an idea of how they feel about what you're presenting.
7. Live streaming
The right virtual event platform will let you stream your presentation on websites and share it on social media so that anyone who can't attend can still get involved. This feature is especially useful if you're hosting a webinar or other type of live event. By streaming your content, you can make sure that people have access to what you're presenting, even if they can't be there in person.
5 Best virtual event platforms of 2022
Choosing the best virtual event platform is no easy task. There are a lot of platforms to choose from, each with its own features and limitations. The following list represents our top picks based on popularity, ease of use, customer satisfaction, cost-effectiveness, and more.
1. GoToWebinar
Being one of the best-known virtual event platforms, GoToWebinar has millions of users worldwide. It offers an easy-to-use interface, a simple pricing structure, an in-depth knowledge base, and responsive customer service. Although it's not free (prices start at $49/month), it is one of the most affordable options on this list. GoToWebinar also allows you to create custom registration pages with your own branding.
The good thing about GoToWebinar is that you can host not only small webinar events but also large conferences with 2,000 attendees. In addition, it offers other tools such as automated email marketing, audience handouts, audience polls, and others. It also boasts GoToStage on the feed which allows you to embed videos and presentations right into your event.
Unique features:
Webinar Templates
Polls and Surveys
Detailed Analytics
Custom Branding
Event Recording
2. Hopin

Hopin is a webinar platform with several users worldwide. Its paid plans offer exciting features to help you hold webinars and events like a pro. Like GoToWebinar, Hopin also allows you to host small webinars as well as large ones with up to 100,000 participants. You can explore the stage, networking, reception, sessions, and expo areas among others. It also comes with free templates that are easy to customize, which means you don't have to hire a designer or developer if you don't want to.
The best thing about Hopin is that you enjoy the basics, polls, branded events, like chat, surveys, etc. This makes it easy to use with little or no experience in webinar hosting. You can also record your event so that you can share it with your audience later on.
Hopin's events and webinars can take a maximum of 72 hours which means rehearsals and testing are possible before you go live. This is unlike other platforms that limit you to 24-hour events. You also get detailed reports on your audience, so you know who has viewed your event and who hasn't.
Unique features:
Interactive "expo areas"
Flexible and simple event schedule tool
Webinar sessions with pools and chat
Brandable, customizable
3. vFairs
This global leader in virtual event technology has been hosting events for years now. It offers webinars, online conferences, web seminars, and live events to millions of users in several countries. The amazing thing about it is that it boasts all-in-one virtual event software at a very affordable price. You can also host multiple events simultaneously with vFairs.
The best thing about vFairs is that it allows you to customize your event by adding videos, pictures, and documents during your presentation with no limits on storage space. You can also create animated avatars and stickers as well as virtual gifts like flowers and gift cards among others. Besides, you enjoy a lot of networking options, which means it's easy to meet new people while hosting an event. Overall, It's ideal for both beginners and professionals alike since it offers plenty of features at a very affordable price.
Unique features:
3D virtually immersive environment
Document and video hosting
In-depth reporting
Group and 1:1 networking
Personalized landing page
Gamification options
Email marketing campaigns
4. BigMarker
Considered to be number one in terms of its simplicity, BigMarker is a great platform that allows you to hold events easily. It boasts all-in-one event software at an affordable price, which means you don't have to spend extra money on other services or tools. You can host events with up to 1,000 participants with no limits on storage space. This makes it easy for you to upload videos, documents, and pictures among others during your presentation.
BigMarker allows you to use standard engagement features such as polls, screen sharing, session recording, and surveys. This makes it easy to create a poll or survey during your event and share it with your audience. In addition, it boasts an all-in-one virtual event platform that is very easy to use even if you're a beginner at hosting events online. You can also add logos, colors, and branding to enhance brand awareness.
Unique features:
Landing Pages and Microsites
Social Media Streaming
Audience Handouts
Live, Interactive Video
Embedded Surveys
Email Marketing
5. HeySummit
HeySummit virtual event platform is designed for tech-averse professionals. It boasts a simple, easy-to-use interface. It boasts a speaker dashboard that allows you to manage your content from one place. You can also share your presentation with attendees using their mobile devices or desktop PCs among others.
The best thing about HeySummit is that it offers advanced engagement features such as polls, surveys, and screen sharing among others that are not available on other platforms at its price point, which starts at $29.
Unique features:
Landing Page Builder
Speaker Dashboards
Live and Prerecorded Sessions
Detailed Event Analytics
Features to consider when choosing the best virtual event software platforms and systems
What if you have a list of several best virtual event software platforms and systems, but you don't know which one to choose? Here are some important features to consider when choosing an online virtual event software platform or system.
(a) Presentation tools
The first thing to consider is whether your event software platform has a variety of presentation tools. If you are going to be holding video conferences, then it's best to choose an online virtual event software platform that allows presenters to easily display slideshows, images, videos, and web pages. Some virtual event software platforms also allow presenters to share their screens so that viewers can see what they are doing.
(b) Networking capabilities
You also need to ponder how your online virtual event software platform or system allows you to network with other users. For example, it's great if you can send emails to other users and receive their replies instantly. Other virtual event software platforms allow presenters to create their own private chat rooms where they can talk with attendees at specific times during an event. This is helpful when you want to interact with a small group of people who are attending your event. However, most platforms don't allow presenters to hold video conferences with more than 100 participants because video conferencing requires a lot of bandwidth. If you want to host large-scale events that include hundreds or even thousands of participants, then it might be best to choose a different virtual event software platform that has more robust networking capabilities.
(c) Ticketing functionality
You should also find out whether your online virtual event software platform or system has ticketing functionality. Ticketing is a great feature to have because it allows event organizers to collect payments from attendees, process refunds if needed, and automatically send invoices to presenters after an event. If you plan on hosting several virtual events in a row, then it's best to choose an online virtual event software platform that has integrations with popular e-commerce platforms.
(d) Sponsorship opportunities
Another important feature to consider is whether your online virtual event software platform or system allows you to create sponsorship opportunities. Sponsorships are an easy way to generate revenue, especially if you need extra money to cover your expenses. Some virtual event software platforms have built-in sponsorship management tools that allow presenters to list sponsorship packages on their websites, collect payments from sponsors, process sponsor refunds if needed, and keep track of which sponsors have already paid.
(e) Branding and communication tools
Finally, you should think about how your online virtual event software platform or system allows you to build your brand. You should choose a platform that comes with built-in branding tools so that you can get your name out there. It's also helpful if your online virtual event software platform or system has integrations with popular social media platforms so that you can drive traffic to your website and encourage existing followers to register for an upcoming event.
Conclusion
In a nutshell, virtual event software platforms and systems are a great way to get your business ahead of its competitors. The future is here, and it's time to start using these tools. They're easy to use and easy to implement into your business model. If you want your business to be successful in 2022 or beyond, it's time to jump on board with some of these fantastic tools that will help you along every step of the way.